Top Tips/Products for Cleaning Makeup Brushes!!!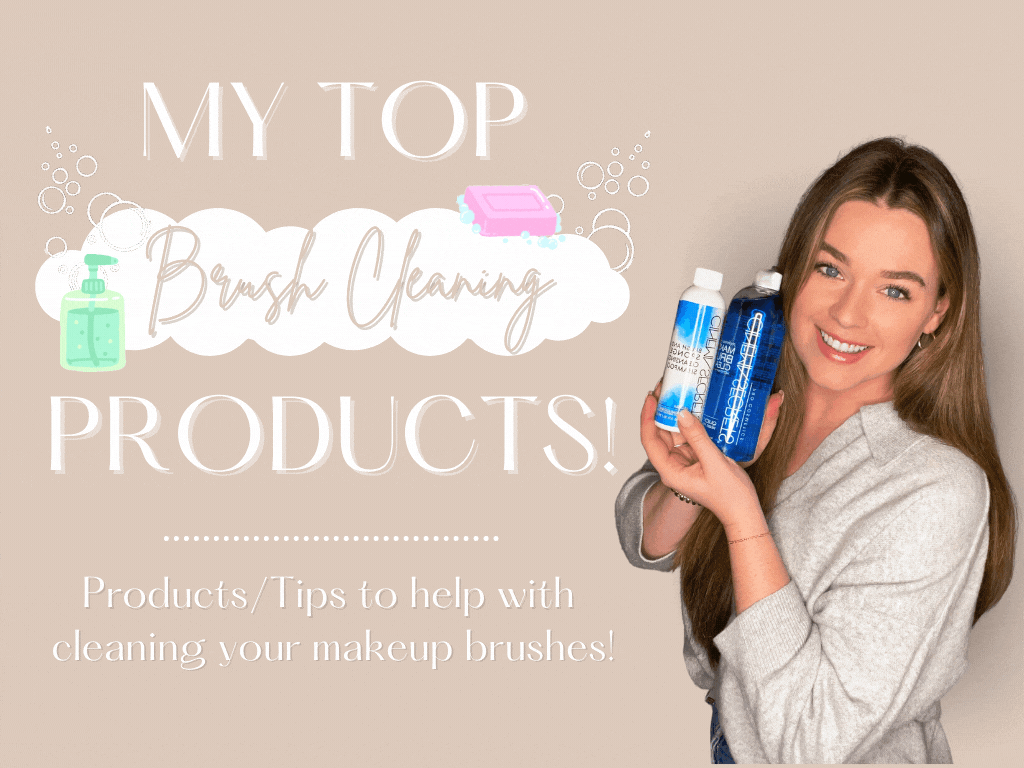 When I tell you that I hate cleaning makeup brushes.. I mean that I HATE IT! I have said forever that if there was a dry cleaners for brushes I would drop mine off there. 🤷🏻‍♀️😂
I would say that brush cleaning is a question that I do get asked pretty often because there really isn't a ton of products out there that truly get the job done! So with that being said, overtime I have learned a few different tricks/products that save me a TON of time and also keep my brushes looking clean and fresh for each client's makeup application!
Here is my current favorite products/routine for cleaning my brushes:
Cinema Secrets - Pro Cosmetics Professional Brush Cleaner
This is without a doubt my holy grail brush cleaning product. I have used it religiously for years now and it never disappoints! It is a professional grade cleaning product that I like to use to clean my brushes and remove all of the pigment from products. This is perfect to use if you are needing to clean brushes between client jobs and do not have time to give them a deep clean/wash. This product is 99.99% Bacteria Free and quick drying!
Here is a quick video showing just how amazing this product is! My brushes are instantly clean with just one dip in the cleaner!
Pro Tip - When using this product I like to pour a little bit of it in a container and then "dip" my brushes into the cleaner. After this I just wipe then off on a clean paper towel and BOOM your dirty brushes are squeaky clean! Plus, since this product is quick drying you can use them on another client shortly after you finish cleaning!
*I do NOT encourage only cleaning your brushes with this product because it is very drying to your brushes. You need to also deep clean them with a cleansing shampoo/cleanser or the brush bristles will dry out and not perform correctly.*
Click HERE to shop this product!
Cinema Secrets - Brush & Sponge Cleansing Shampoo
I actually just recently started using this product this past fall and I really enjoy it! I use the cleansing shampoo when I am deep cleaning my brushes. I do a "two step" process because this cleanser doesn't always get dark pigment out of my white brush bristles. Step 1: Clean brushes with the brush cleaner (listed above), Step 2: Wash Brushes with the cleansing shampoo. After this, they truly are transformed back to looking fresh and new!
Pro Tip - Do not use too much of the cleansing shampoo on your brushes (especially your more dense bristle brushes) or it will be hard to remove all of the shampoo. For sponges, I recommend adding a thin layer of the cleansing shampoo to the sponge then letting it sit in the sink with water for a few minutes. After this, proceed to clean the sponge under the faucet and typically more product comes off since you allowed it time to set with the cleansing shampoo.
Click HERE to shop this product!
Silicone Makeup Brush Organizer + Cleaning Mat
This year I learned about silicone brush cleaning mats and they are a GAME CHANGER! These mats stick to the bottom of your sink and have grooves that allow you to really clean your brushes without having to get your hands super messy! It has saved me SO MUCH time! I also love that this specific product came with a brush drying mat that allows me to be able to organize my brushes as I clean them instead of having to lay them out on a towel somewhere to dry! (saves counter top space!) This particular one I use was $12.99 on Amazon and WELL WORTH the investment!
Click HERE to shop this product!
DISCLAIMER - Sanitation is extremely important so always clean your brushes between each client use. This is so important in order to keep from spreading germs and bacteria. I always carry alcohol on hand with me everywhere I go and spray down my station before each job as well as after. This is on top of everything that I already do in order to unsure my brushes are clean.
What's your are your favorite products for cleaning your brushes?
Comment below your brush cleaning routine!
SHOP MY PROFESSIONAL MAKEUP KIT FAVORITES HERE!
FOLLOW ME ONLINE
FOLLOW MY INSTAGRAM:
LIKE MY FACEBOOK PAGE: